Engage in a healthier lifestyle with ionized alkaline water, all from the comfort of your own home.
The human body needs water. However, most of us drink normal tap water and other 'filtered' bottled water without thinking, "what are the real health benefits?". Start drinking our machine-generated alkaline water, and begin receiving real health benefits today! Whether drank by itself, or used for cooking in the home, consumers report seeing health improvements very quickly. Our new HWP-55 water system, includes the following features:
Patented Technology reducing wastewater with High-efficiency Electrolytic Cell
Long Life Span of the Filter (2 years)
Produces 10 different ph levels of Water
Our U.S. JACLEAN HWP-55 machine, offers the highest quality alkaline water currently on the market. Check out more information below!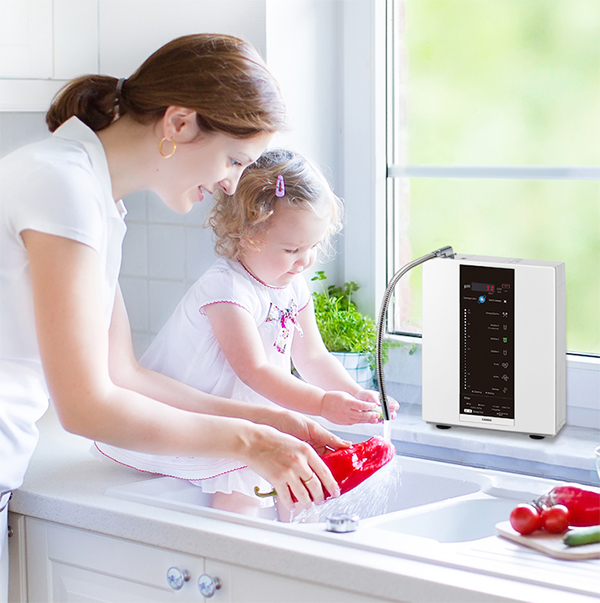 The HWP-55 Alkaline Water Ionizer
Our newest water system offers 10 different types of water, all with unique health benefits.
The water from the HWP-55 system is excellent for digestion, internal stomach health, skin care, and cleaner cooking. With the push of a button, select the ideal water type for your personal needs.
Users can choose from 10 types of water:
Strong Alkaline Water: pH 10.5
For food preparation, i.e. to soften the harsh taste of vegetables.
Alkaline Water 3: pH 9.5
For daily drinking and maintaining good health.

Alkaline Water 3: pH 9.5


When cooking, brewing tea, etc., this water improves taste.

Alkaline Water 2: pH 9.0


Ideal for hydration after sports, and when the body has become accustomed to drinking electrolytic alkaline water.
Alkaline Water 2: pH 9.0
Ideal for washing and cooking rice; produces a fluffier rice.
Alkaline Water 1: pH 8.5
Enjoy this water upon waking in the morning, and before sleeping at night.
Alkaline Water 1: pH 8.5
Start with this level if just starting to drink electrolytic water.
Purified Water
Start with this level if just starting to drink electrolytic water.

Acidic Water: pH 5.5


This water is used for face-washing, etc., as it tightens the skin.

Sanitized Water: pH2.5


This water is used for cleaning and sterilizing tableware, and cleaning bathrooms and kitchens. Note: Requires addition of table salt.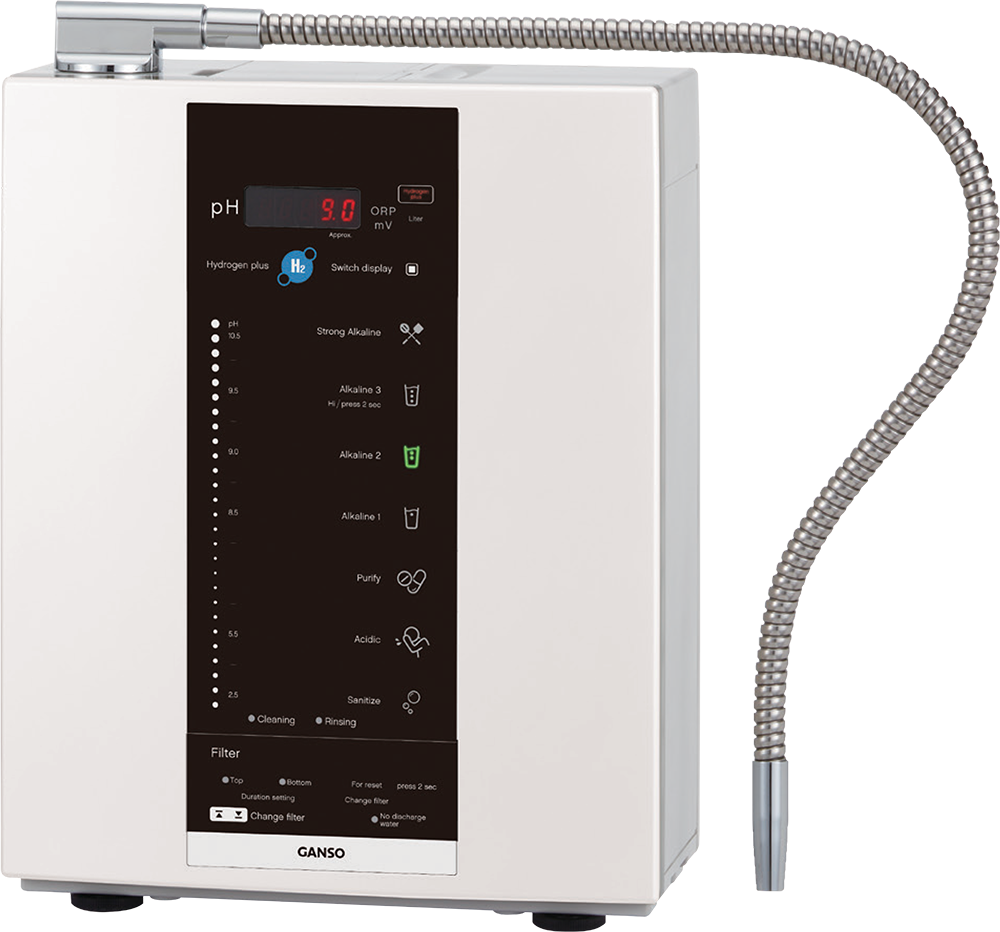 Making health-enhancing electrolytic alkaline water starts with an advanced water filtration system supplying purified water to a state-of-the-art electrolytic tank.
Engage in a healthy lifestyle with GANSO Ionized Water
U.S. JACLEAN, INC.
Headquartered in California with facilities nationwide, we run our own warehouses right here in the United States. 35 years ago, founder Michael Kogure arrived from Japan with a singular mission: to improve the health and wellness of Americans through quality products that can be used from the comfort of home. Over the years, U.S. Jaclean, Inc. has developed popular brands, opened stores throughout the nation, and introduced countless Americans to health and wellness products. Our family of brands has grown and diversified, always staying on the cutting edge of at-home health and wellness technologies
For decades the U.S. Jaclean brand has meant quality health, home, and fitness products at affordable prices. As we continue to grow and expand the U.S. Jaclean, Inc. product line to include more popular brands, the U.S. Jaclean name represents our family-owned company and our family of consumer wellness brands.
Corporate Information
1816 W.135th
Gardena, CA 90249
(310) 538-2298