Engage in a healthier lifestyle with ionized alkaline water. Have a healthier lifestyle by easily generating high-quality electrolytic alkaline water in your own home.
Because our bodies require water every day, many of us search for high quality water to maintain our health. Yet this high-quality mineral and purified water does not provide the benefits found in electrolysis-generated alkaline water. Whether we drink it or cook with it, high-quality electrolyzed alkaline water offers significant benefits, such as:
Patented Technology reducing wastewater with High-efficiency Electrolytic Cell
Long Life Span of the Filter (2 years)
Produces 10 different ph levels of Water
No system offers higher quality alkaline water than the Fuji Medical Instruments HWP-55. With the many benefits that electrolyzedalkaline water has to offer, consider making our Electrolytic Alkaline water Water Enhancer a part of your lifestyle.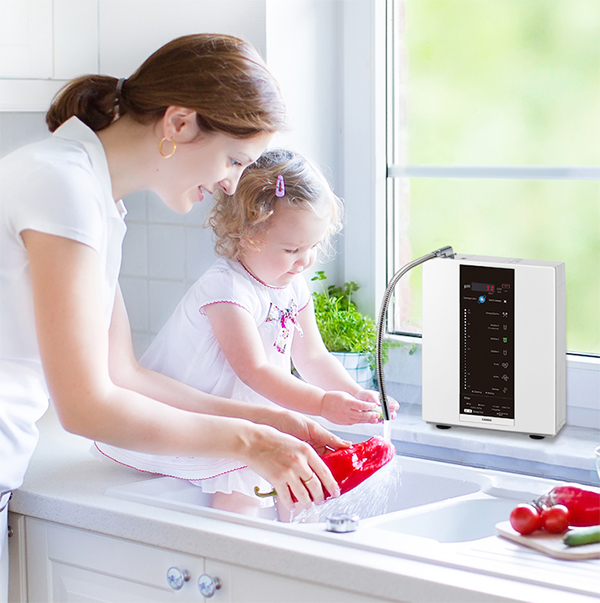 The HWP-55
Enhance your daily water with ten types of selectable water.
Ionized water can make food taste better, and is excellent for skin care. With a simple push of the button, you can select the ideal types of water for your daily needs.
Users can choose from 10 types of water:
Strong Alkaline Water: pH 10.5
For food preparation, i.e. to soften the harsh taste of vegetables.
Alkaline Water 3: pH 9.5
For daily drinking and maintaining good health.

Alkaline Water 3: pH 9.5


When cooking, brewing tea, etc., this water improves taste.

Alkaline Water 2: pH 9.0


Ideal for hydration after sports, and when the body has become accustomed to drinking electrolytic alkaline water.
Alkaline Water 2: pH 9.0
Ideal for washing and cooking rice; produces a fluffier rice.
Alkaline Water 1: pH 8.5
Enjoy this water upon waking in the morning, and before sleeping at night.
Alkaline Water 1: pH 8.5
Start with this level if just starting to drink electrolytic water.
Purified Water
Start with this level if just starting to drink electrolytic water.

Acidic Water: pH 5.5


This water is used for face-washing, etc., as it tightens the skin.

Sanitized Water: pH2.5


This water is used for cleaning and sterilizing tableware, and cleaning bathrooms and kitchens. Note: Requires addition of table salt.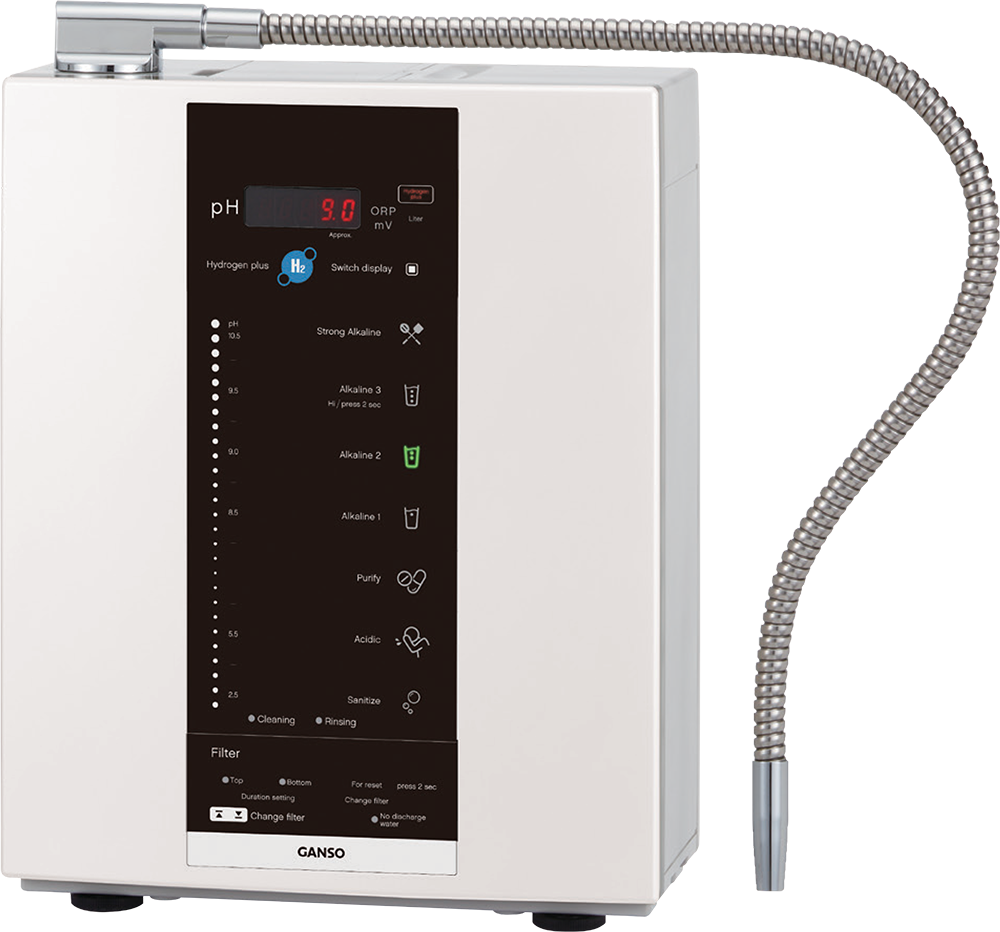 Making health-enhancing electrolytic alkaline water starts with an advanced water filtration system supplying purified water to a state-of-the-art electrolytic tank.
Engage in a healthy lifestyle with GANSO Ionized Water
Fujiiryoki, Inc.
Fujiiryoki started as a beauty-oriented and health-related manufacturer, and in 1954 was the first in the world to mass produce massage chairs. The company has disseminated this unique "Japanese massage chair culture" from Japan to the world, and has contributed to lifestyle improvement and health management for many people. Since its foundation, Fujiiryoki has always developed products that respond to customer needs and is now developing a wide range of products that are certified as medical devices for home use,such as its key products: massage chairs and electrolyzed hydrogen water generators.